Pastor Benoit & Lysianne Constant are SRF on Mission partners in Montréal. They pastor a young church in St-Léonard alongside Pastor René & Sharon Frey.
Dear brothers and sisters in Christ, prayer partners and friends,
God has been so good to us. He has shown us his faithfulness and grace towards us, well beyond what we deserve. Last week, we went out in the community to serve and love our neighbours in concrete ways under the banner of Operation "J'aime mon voisin" ("I love my neighbour")! God answered our prayers beyond our expectations.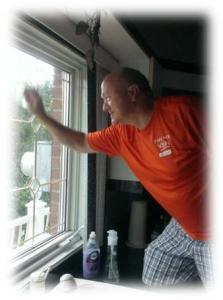 In total, we went out to serve a dozen families and individuals from our neighbourhood during the week (August 8 to 15). In small groups, we went to their houses to wash their windows, do various painting jobs, clean their house or weed their yard. It was a golden opportunity to get to know some of our neighbours and to show love to them in a tangible way by coming to help them for free where they had a need. We closed off the week by hosting a free corn roast in one of the neighbourhood's large parks with a festive environment.
Although our schedule was barely full at the beginning of the week, God led us to people in need that we were able to help. He showed us to trust Him and depend on Him, and He showed His mighty hand at work. Let me tell you two of my favourite stories from the week.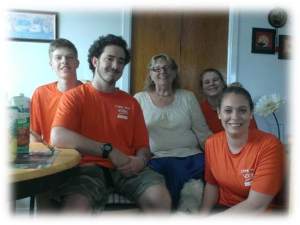 First, as we were washing the windows of my landlords, a lady that was walking her dog passed by and was intrigued by our orange shirts and the name « J'aime mon voisin » printed on the back. To make a long story short, we ended up going to her place the next day and cleaning her entire apartment! We got to meet her (her name is Pauline) and to share with her who we were. During our time at her place, she told us: "I don't think that it's a coincidence that I went to walk my dog at a different time than usual." As we were leaving, she also thanked us by saying: "You really were gifts from heaven!"
Here's my second story: many members from our team brilliantly improvised an evening of free lemonade distribution in one of the neighbourhood's parks to let more of our neighbours know about the project. There was a Moroccan Muslim family that we met and who asked us to wash their (dirty) windows.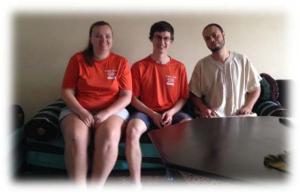 My teammate Samantha and I went to their place a few days later and they received us with a delicious Moroccan snack! The husband Fathi (pronounce "Fats-hey") was confused that we were doing this for free and told us: "This kind of thing would never happen in Morocco!" I got to tell him that it was the love of Jesus that motivated us.
We had to go back two days later to finish the work and during our morning there, I had the opportunity to share the Gospel with Fathi. He was open to listen and loved to share his Muslim faith and practices with me. I could see the grace of God that He had opened their home and allowed us access into their world so different from ours!
Furthermore, Samira, Fathi's wife, came to our closing celebration and I presented her to Lysianne. They had been so touched by the quality of our work and our kindness that, during the conversation, Samira mentioned many times to Lysianne that we were both welcome to eat at their home anytime! When Lysianne was telling me this, she said: "They really want to become our friends!" Wow. This is a real privilege and an answer to our prayers. When we will be back from vacation, we will go and see them. They actually live just 3 streets away from us.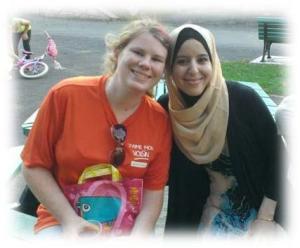 I thank God that through our acts of love, He has allowed us to enter in relationships with members of what I would consider the two hardest groups to reach with the Gospel in our neighbourhood: older Catholic Italians and Muslims.
We were also blessed beyond measure to receive a team of 8 young people from Temple Baptist Church (Cambridge, ON), one of our partner churches, to bring active support to our project. Their presence was an encouragement for our church, a definite help to reach our neighbourhood and an example of selfless love. I thank God for each one of them!
God works well beyond our knowledge and comprehension. Would you pray with us? That God would continue to open homes, but especially that He would open hearts to his glorious Gospel and that He would equip the believers from our church to be faithful witnesses of His love in word and in deed. Thank you so much.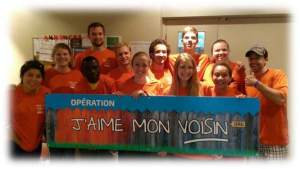 Have a great end of the summer. May the grace and peace of the Lord be with you all.
Benoit & Lysianne Constant